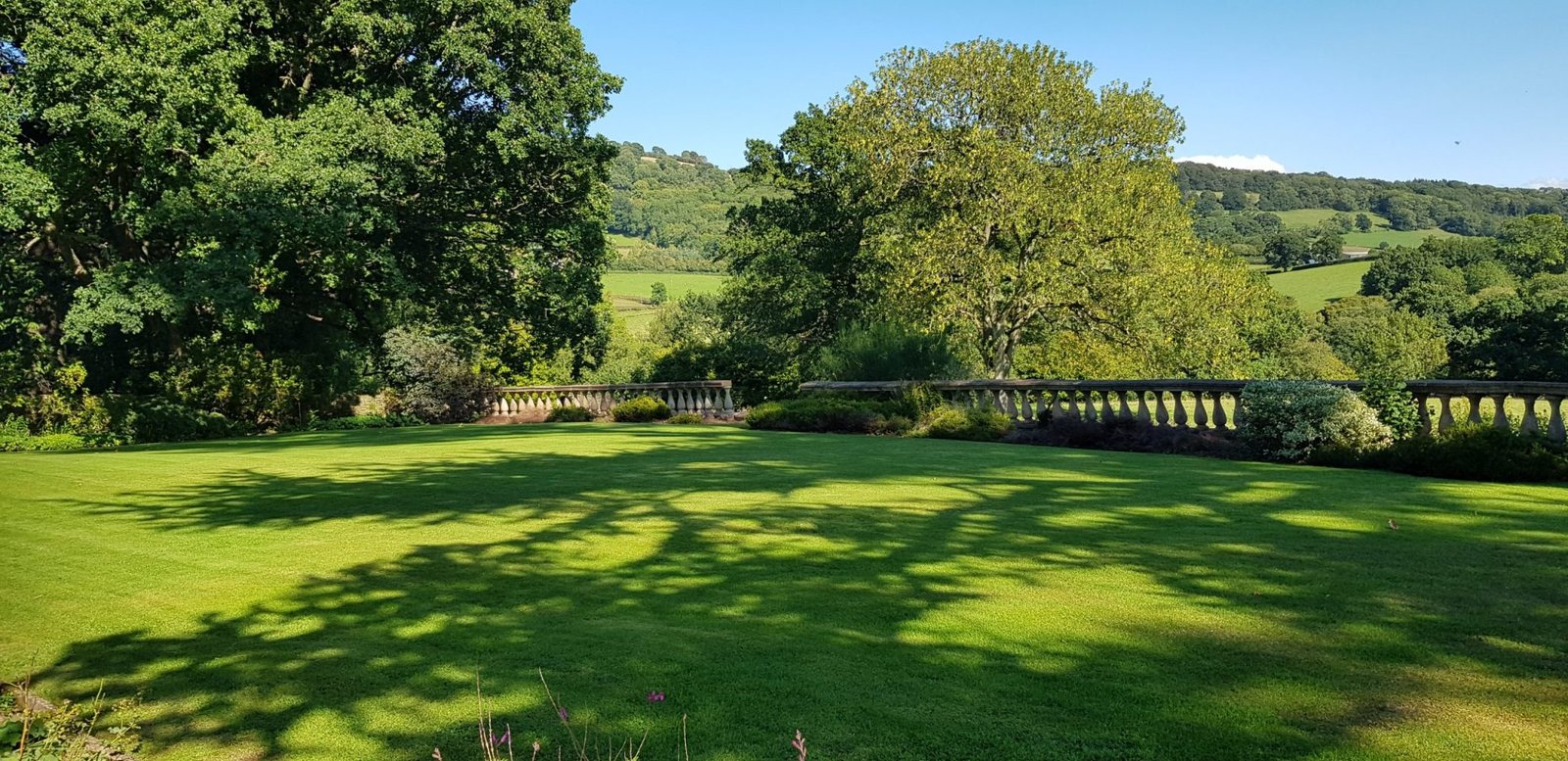 Garden Hire
Are you looking for a special place for an informal gathering?  Somewhere quiet to sketch, paint, take photographs or simply meet up with friends or family for a picnic?. If so, have you thought about  hiring our tranquil and atmospheric garden? For just £450 for 8 hours or £250 for 4 hours you can use our garden as your own.
We are situated in the beautiful county of Monmouthshire within easy reach of the market towns of Monmouth and Abergavenny and our private and peaceful garden is far removed from the hustle and bustle of the city.
The space for hire consists of a large, flat, lawned area at the front of the house with planted borders, rockery and balustrade. This is presided over by a majestic cedar tree planted in 1830. The sunny terrace, also in front of the house, has a selection of outdoor dining tables and chairs, and is a perfect space for sharing food whilst admiring the far-reaching, idyllic, almost timeless views.
The hire fee also includes the sheltered and sunny walled garden with its perennial borders and lavender-edged paths full of scent and ever-changing colours.  Designed by the owners in a traditionally laid out pattern of quarters, separated by paths with a central seating area, this garden provides a quiet space for sketching, reading or simply relaxing.
To the side of the private driveway, the pond area surrounded by mature trees and gently sloping banks provides another tranquil, sunny and enclosed space. (Please note that this pond is unfenced and children must be supervised near it.)
Please give us a ring to discuss your requirements.
General Use

£

450

8 Hours

extras

Add cream teas for your group

Add treatments with Green T Therapy
General Use

£

250

4 Hours

extras

Add cream teas for your group

Add treatments with Green T Therapy
Photoshoot

£

275

8 Hours

EXTRAS

Add sandwiches and tea/coffee for your team
Photoshoot

£

175

4 Hours

EXTRAS

Add sandwiches and tea/coffee for your team
Cream Teas
Served with homemade apple jelly and cream
Served with homemade jam and cream
A MESSAGE FROM FRED & JEANETTE
Hiring out our garden is a new venture for us and, at the moment, we don't have an outside toilet. There will be one very soon though. We don't provide access to a kitchen but we can serve cream teas to your group if this is something you would like. You will need to book these in advance though. If you are interested in hiring our garden and would like to discuss your requirements, or simply want to find out more – please don't hesitate to get in touch. (01981 240814)