Welcome to Green t therapy!
Hello! 
I am working from the Garden Room by the pond, about 25m from the car park.
I am taking limited appointments a day – this is to ensure there is no crossover & that I can clean, ventilate & warm the room between clients.
I have also put together some combination treatments, which have been very popular, as it allows you to try two treatments in one session.
I am also offering Distance Reiki. This means if you are unable to get to me, or would like to try Reiki in the comfort of your own home, I can send this to you, regardless of where you are in the world! I am very excited about this possibility and cannot wait to help you relax via Reiki!
All appointments must be pre-booked and consultation form updated before treatment.
On arrival, I will come and meet you in the car park to show you where to go.
Any queries, I'm happy to help!
Tanya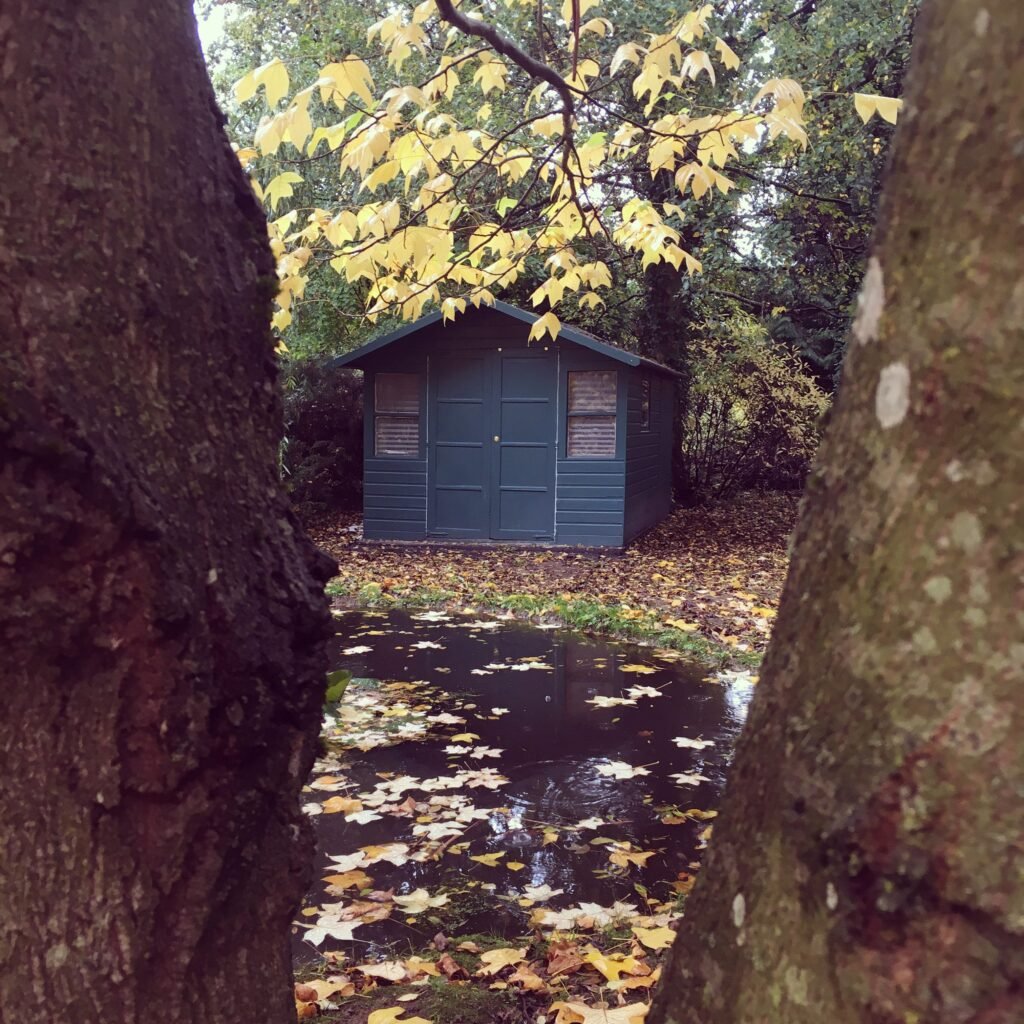 I am fully vaccinated, and will update you should I develop any symptoms of ill health before your appointment.
I will be wearing a type IIr face mask and using hospital grade sanitiser to clean with.
Please do not book a treatment within 7 days of having a vaccination.
Please note I am not able to massage pregnant clients.
If you develop any health issues between booking and your appointment, please let me know as soon as possible.
There is no indoor waiting area – please wait inside your car and I will meet you in the car park.
Hand sanitising on arrival (sanitiser provided).
I will keep you updated with any changes on here and on social media.
Please contact me with any queries or to book an appointment.
See you soon!
Tanya
E: GreenT@therapist.net T: 07907 853 505
OUTSIDE MASSAGE
---
During the summer months I am offering massages out in the open, under the trees. My therapy area is away from the main garden in a secluded space under a large weeping silver birch, by the pond. This setting has the benefit of being fairly well sheltered by the tree canopy and privacy is offered by a large bamboo at the front. Receiving a treatment in the open, amongst nature, brings an entirely new element to a massage and is very restorative.
If you are thinking of scheduling in some relaxation time with Green t Therapy you can choose from a range of holistic therapies to unwind both mind & body.
As a VTCT qualified massage therapist, I will go through a consultation with you before each treatment. This will last approximately 10-15 minutes and ensures the treatment is tailored to you, and adapted accordingly, so that you get the best results from it. If you are currently undergoing treatment for any medical conditions, have recently had surgery, or are pregnant please contact me to discuss the suitability of a massage. Some conditions may need medical permission before a treatment can take place.
All products used are vegan friendly & cruelty free! From massage wax to cleaning products – good news for animal lovers!
RELAXING AND RESTORATIVE TREATMENTS
*new prices from May 2023
---
Swedish Massage
90/55/30 minutes – £70*/£45*/£25
The most popular massage! A variety of massage techniques will be used to reduce muscle tension & relax mind, body & soul. It is a soothing treatment ideal for first timers or those wishing to have treatments regularly. Common problem areas like stiff neck/back/shoulders can solely be worked on during the session, whilst a full body massage is perfect for a restorative experience by promoting relaxation and encouraging sleep. Give yourself a much needed break & book in for a relaxing massage today!
*It is normal to fall asleep during the massage, or to feel sleepy afterwards, and care must be taken before driving home afterwards.
Lava Shell Back Massage
45 minutes/ £40
This luxurious treatment uses self heating porcelain shells to work away tension in your back, neck and shoulders. The smooth, non porous shells contour the muscles, and are heated to a comfortable 36-48 degrees. Lava Shells back massage offers an idyllic treatment combining the warmth of the shells with deeply relaxing massage techniques to create a sense of balance to the entire body and mind. During the massage, the shells are worked in slow deep moves to warm and de-stress over the back, neck and shoulder area to ease away all tension, knots and stress.
Choose from a range of specially blended vegan massage oils – Invigorate, Revive or Restore – all with a different mix of essential oils. Nourish, is an unscented oil blend of Argan, Shea & Coconut, perfect if you are sensitive to smells.
Drift away – Swedish Massage & Lava Shell 
60 minutes/ £50
This blend of soothing massage techniques combined with the heated Lava Shells ensure you will drift away during this 60 minute massage. The pressure will be as light or firm as needed, and the blissful heated shells will be used to massage shoulder tension away. All you need to do is lie down and relax.
Thai Foot Massage
50/65 minutes – £40/£55
This ancient art combines lower leg and foot massage, stretching, and having 23 reflex points stimulated with a Thai stick. Energy lines (sen) are worked on to bring mind and body into balance.
Thai foot massage assists in relaxing & releasing muscle tension, whilst gentle stretches and acupressure ensure you feel balanced & grounded after a treatment.
Overall, a deeply relaxing treatment, using your choice of organic, vegan friendly foot balm & lotion from award winning British company, Botanicals.
*Please note this treatment is not suitable for those with infectious foot diseases, such as verrucas or athlete's foot; injuries to hips/knees/ankles/feet, or those currently pregnant. This list is not exhaustive- please contact me to discuss the suitability of treatment if you are unsure*
Indian Head Massage
25/45 minutes – £25/£40
This centuries old treatment from India starts on the upper shoulders, and progresses up the neck and scalp. Using a variety of techniques, Indian Head Massage can help calm you and create a sense of deep relaxation. It will relax tight muscles in the shoulders & neck whilst the scalp massage will stimulate blood circulation and improve skin condition.  Indian Head Massage can help with insomnia, headaches and general stress relief.
You can be fully clothed and seated, either on the massage chair, making this the ideal treatment for the less mobile or for first timer,  or if you prefer, lying down on the massage table is also an option. Pressure will be adjusted to ensure you have a relaxing experience throughout.
Please note some people may have a healing reaction after Indian Head massage – this could take the form of crying or sudden outbreaks of laughter. This is a normal healing process and is a release of tension.
Reiki
30 minutes – £25
Reiki is a natural healing system, using universal energy to activate and enhance the body's own natural healing system.
Developed in the 19th Century in Japan by Dr. Usui, this gentle, non invasive treatment is suitable for all.
Participants remain fully clothed throughout the treatment, whilst energy is channelled through the body. This is done with a mixture of hands off and hands on treatment depending on your preference. This may be felt in the form of heat/coolness/tingling – all of which are normal healing actions during Reiki. This is a very relaxing treatment and can help balance emotions and with stress relief.
Please note no massage techniques are used during Reiki.
Distance Reiki
25 minutes – £20
During this 25 minute session, I will send distance reiki to you, wherever you are in the world.
The beauty of distance reiki is that the energy will work whether you're busy or relaxing.
There is no video/audio to dial into; simply set up a quiet space (if you're able) and let yourself relax.
I'll start the session at an agreed upon time & end 25 minutes later.
Its a good idea to set an alarm for the end of the session, as some people drift off completely!
Sometimes there can be a healing detox afterwards: sudden outbreaks of laughter, crying or intense emotions. All natural and the body's way of processing healing.
Keep yourself hydrated & avoid any heavy lifting/exercise immediately afterwards.
Reiki is a natural healing system, using universal energy to activate and enhance the body's own natural healing system.
This may be felt in the form of heat/coolness/tingling – all of which are normal healing actions during Reiki. This is a very relaxing treatment and can balance emotions and help with stress relief.
I can send over my notes from the session if you would like – let me know when booking in!
Blissed out – Back massage & Reiki
55 minutes – £45
A wonderful 55 minute treatment combining 30 minutes of neck/back/shoulder massage, followed by 25 minutes of soothing Reiki. As light or deep pressure as needed, prepare to chill out & find your bliss.
De-stress – Indian Head Massage & Reiki
55 minutes – £45
Lie down and enjoy this 55 minute combination of Indian head massage & Reiki. Slip into deep relaxation, as your upper shoulders, neck & chakras get worked on in this delicious combination, leaving you grounded & relaxed.
Perfect for those who find it hard to relax during reiki, as the massage helps you unwind before receiving Reiki.
Unwind
55 minutes – £45
Lie down and enjoy this 55 minute combination of back/neck/shoulder massage combined with soothing Indian Head Massage. Let stress slip away, as I work on tense, knotted shoulders and let your mind unwind as you enjoy a blissful scalp massage to finish. If you enjoy your hair being touched, this one's for you!
GIFT VOUCHERS

Starting from £20
Gift vouchers are available for a unique gift experience. They can be sent to a UK address of your choice or as an e-voucher.
To purchase, please email: GreenT@therapist.net
(sometimes my reply ends up in spam/junk, please check there if you haven't heard back from me!)
Terms & conditions for Gift Vouchers
Valid for 12 months from date of purchase
They cannot be exchanged for cash
Voucher must be presented at time of treatment or you may be charged.
GET IN TOUCH
If you have any questions or you would like to book a massage, please contact Tanya on 07907 853 505 or email GreenT@therapist.net
I look forward to hearing from you!
Tanya
Facebook: Green T Therapy – Massage in Monmouthshire
Instagram: @green_t_therapy
CANCELLATION POLICY
*
Cancellations with less than 24 hours notice will be charged 100% of the treatment value.
NOTE: All no show appointments will be charged 100% of the treatment value. 
Cancellations or no shows will result in removal from client base unless a pre-payment plan is set up.
Thank you for your understanding.
INAPPROPRIATE BEHAVIOUR POLICY
Massage therapy is for relaxation and therapeutic purposes only. There is absolutely no sexual component involved with Green T Therapy's massage treatments.  Any insinuation, joke, gesture, conversation, or request otherwise will result in immediate termination of your session and a refusal of any and all services in the future. You will be charged the full treatment fee regardless of the length of your session. Depending on the behaviour exhibited you may be reported to the necessary authorities.